Read our comprehensive Vista Social review and discover how this all-in-one social media management platform can streamline your social media strategy. Find out about its features, pros, cons, and why it's a valuable tool for optimizing your social media presence.
What is Vista Social?
Vista Social is an all-in-one social media management platform designed to help individuals, businesses, and agencies effectively manage their social media presence. It offers a comprehensive set of features and tools that streamline various aspects of social media management, including content creation, scheduling, engagement, analytics, and reporting.
With Vista Social, users can easily plan and publish content, engage with their audience, track performance, and gain valuable insights to optimize their social media strategies. The platform aims to simplify the complex process of managing multiple social media platforms, enabling users to scale and optimize their social media presence efficiently.
Managing multiple social media platforms can be overwhelming, requiring a great deal of effort to create content, engage with the audience, and analyze metrics across various channels.
Table of Contents
Vista Social aims to simplify this process by offering an all-in-one social media management platform that allows users to scale and optimize their social media strategies. With its intuitive interface and powerful features, Vista Social aims to streamline the management of social media activities.

Vista Social Features
AI Assistant for Social Media Copy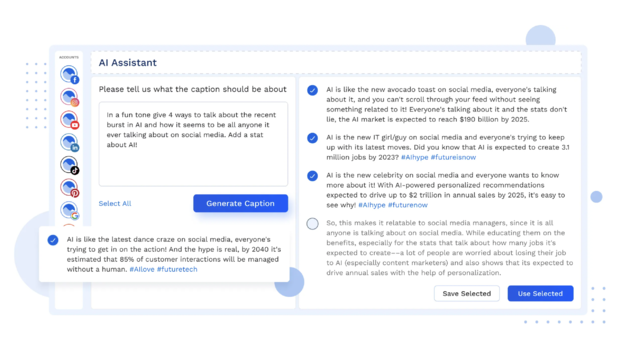 Vista Social includes an AI assistant powered by ChatGPT, enabling users to generate engaging social media copy instantly. This feature makes content creation easier and more efficient, providing users with valuable assistance in crafting compelling posts.
Fact-Checked Stats
Users can enhance their social media posts by adding fact-checked statistics. This not only boosts credibility but also helps to establish trust with the audience. By providing accurate information, Vista Social helps users create more reliable and informative content.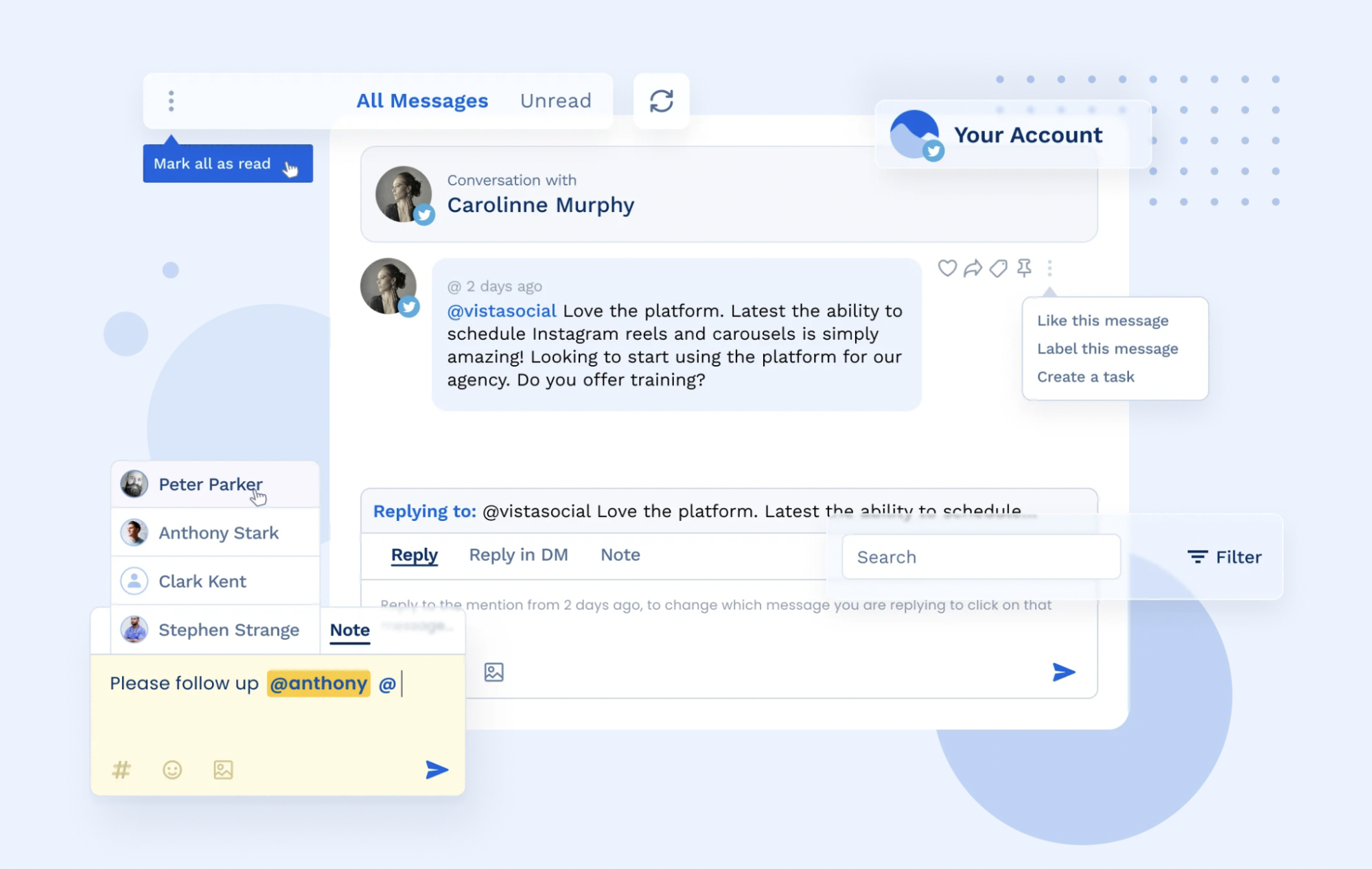 Vista Social's AI assistant can generate replies to questions and comments across multiple channels. Users can save frequently asked questions and their corresponding answers for future use, saving time and effort in responding to common inquiries.
Translation for International Audiences
With just a few clicks, Vista Social can accurately translate content for international audiences. This feature enables users to reach a global audience and expand their social media presence beyond language barriers.
Multi-Platform Support
Vista Social supports a wide range of social media platforms, including Instagram, Facebook, Twitter, Pinterest, TikTok, LinkedIn, Reddit, and YouTube. Users can plan and publish content for all these platforms, either scheduling posts for optimal times or posting in real time.
Canva Integration
The platform seamlessly integrates with Canva, a popular graphic design tool. Users can create visually appealing designs directly within the Vista Social platform or bulk upload existing media, providing flexibility and convenience.
Media Library
Vista Social offers a media library where users can manage all their photos, videos, audio files, and user-generated content. This library allows for easy organization through the use of keywords and tags, making it simple to find and utilize specific assets.
Unified Inbox
The unified inbox feature enables users to manage all comments, messages and mentions from different social media channels in one place. Users can respond to interactions without leaving the dashboard, saving time and ensuring efficient engagement with their audience.
Internal Notes and Team Collaboration
Users can create internal notes within conversations and mention team members, facilitating seamless collaboration. Additionally, messages can be delegated to specific team members, and task efficiency can be measured, streamlining workflow management.
Customizable Reports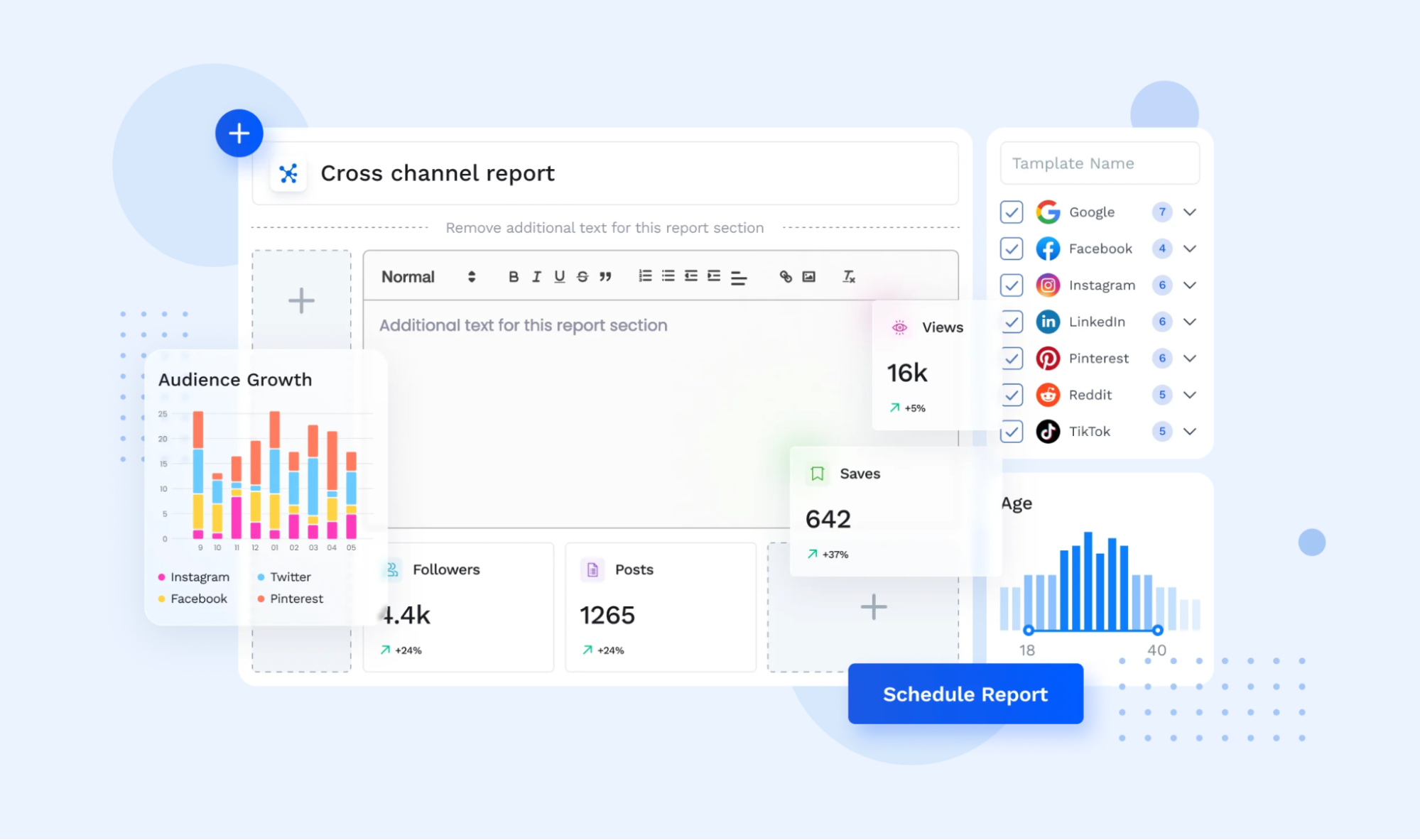 Vista Social provides the ability to create fully automated reports customized to specific needs. These reports offer data-driven insights into social media strategy, allowing users to evaluate growth, performance, and engagement across all connected profiles.
Competitor Performance Tracking
Users can track the performance of competitors, enabling benchmarking and the identification of new industry opportunities. This feature helps users stay informed about their competitors' strategies and adapt accordingly.
Vista Social Pros & Cons
| PROS | CONS |
| --- | --- |
| The AI assistant powered by ChatGPT streamlines content creation and saves time. | While Vista Social supports a wide range of social media platforms, the inclusion of additional emerging platforms may enhance its versatility. |
| Fact-checked stats enhance credibility and trust with the audience. | The availability of more advanced analytics and metrics could provide users with deeper insights into their social media performance. |
| Reply generation and FAQ management features improve efficiency in interacting with users. | |
| Translation capabilities make it easier to reach international audiences. | |
| Multi-platform support enables comprehensive management of social media activities. | |
| Canva integration allows for convenient and seamless design creation. | |
| The media library offers efficient organization and retrieval of assets. | |
| The unified inbox simplifies engagement with the audience across multiple platforms. | |
| Internal notes and team collaboration features promote seamless teamwork. | |
Who can use Vista Social?
Vista Social is a versatile platform that can be utilized by a wide range of users. Here are some examples of who can benefit from using the platform:
Individuals: Whether you are an influencer, content creator, or someone who manages personal social media accounts, Vista Social can help you streamline your social media activities, create engaging content, and manage interactions with your audience.
Small Businesses: Small businesses can leverage Vista Social to enhance their social media presence, manage multiple platforms, and improve engagement with their customers. The platform's features, such as the AI assistant for content creation and the unified inbox for managing interactions, can be particularly valuable for small business owners with limited resources.
Digital Marketing Agencies: Digital marketing agencies can utilize Vista Social to efficiently manage social media accounts for multiple clients. The platform's multi-platform support, customizable reports, and competitor performance tracking enable agencies to provide comprehensive social media management services to their clients.
Enterprise-Level Organizations: Larger organizations can benefit from Vista Social's robust features and scalability. With the ability to manage multiple accounts and platforms, collaborate with team members, and track social media performance, Vista Social can streamline social media management for enterprise-level organizations with complex requirements.
International Businesses: The translation capabilities of Vista Social make it an excellent choice for businesses with a global audience. It allows for easy content localization and reaching international customers effectively.
In summary, Vista Social is suitable for individuals, small businesses, digital marketing agencies, enterprise-level organizations, and international businesses looking to optimize their social media management, enhance engagement, and scale their social media strategies.
Conclusion
Vista Social stands out as an exceptional all-in-one social media management platform. Its powerful features, including the AI assistant, translation capabilities, unified inbox, and customizable reports, provide users with the tools they need to optimize their social media strategies effectively.
With the ability to manage multiple platforms, collaborate with team members, and track competitor performance, Vista Social offers a comprehensive solution for individuals and businesses seeking to streamline their social media management.
Despite minor areas for improvement, Vista Social's user-friendly interface and extensive feature set make it a valuable investment for those looking to enhance their social media presence.