Are you tired of struggling to take accurate notes during your online meetings? Do you find yourself missing important details and having to schedule more appointments just to clarify previous discussions?
Well, I've got some exciting news for you! Let me introduce you to Noota, the ultimate solution to all your note-taking woes.
Noota is a powerful tool that allows you to record and annotate your online meetings, while effortlessly converting all audio into searchable and editable reports. It's like having a personal assistant that captures every word spoken and organizes it into a comprehensive and easily accessible format. Trust me, once you start using Noota, you'll wonder how you ever managed without it.
Let's dive into the features that make Noota stand out and why it's a game-changer for professionals like you.

Screen Recorder: Capture Every Moment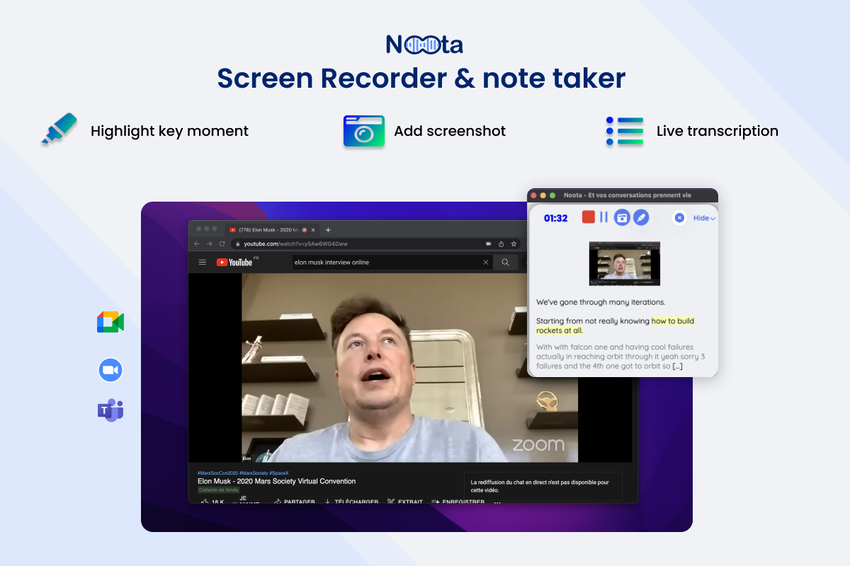 With Noota's innovative screen recorder, you can easily customize your notes with screenshots, key moments, and even a live transcription. Whether you're using Zoom, Microsoft Teams, Google Meet, or any browser-based meeting platform, Noota has got you covered. It's incredibly convenient to have all your meeting content in one place, allowing you to stay focused and engaged without the need for constant note-taking.
Accurate Transcriptions in Multiple Languages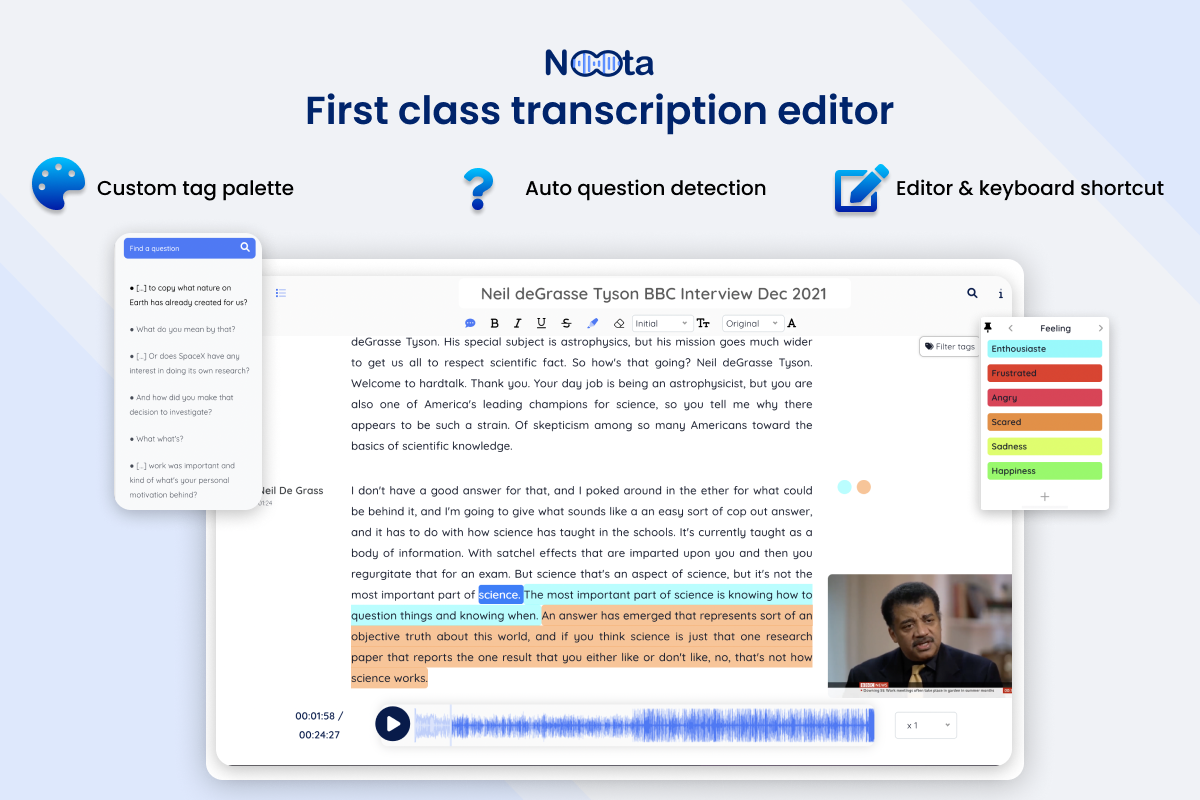 One of the most impressive aspects of Noota is its AI-generated speech-to-text technology. This powerful feature accurately converts all audio into text in over 70 different languages and accents. Whether you're conducting international business or collaborating with a diverse team, Noota ensures that language is never a barrier. It's genuinely remarkable how Noota can differentiate up to 10 speakers in the same meeting, providing you with a seamless and efficient way to identify who said what.
Subtitle Generator: Enhance Content Visibility
In today's digital landscape, video content is king. However, not everyone watches videos with the sound on, which can lead to missed opportunities. Thankfully, Noota has a solution for that too. By automatically generating subtitles for your videos, Noota ensures that your message reaches a wider audience. You can even customize the style of your subtitles to align with your brand's identity, making your content more engaging and accessible to all viewers.
NootApp: Transcribe Anywhere, Anytime
Do you often find yourself on the go, attending meetings, or conducting interviews outside of your office? Well, Noota has got you covered with their mobile app, NootApp. With NootApp, you can transcribe and record from anywhere, right from the convenience of your mobile device. Keep the app running in the background, and it will continue to transcribe for you, providing you with a secret weapon for staying productive and organized on the move.
Pros & Cons
Now that we've explored the fantastic features of Noota, let's summarize the pros and cons:
Noota Pros:
Seamless integration with popular meeting platforms like Zoom, Microsoft Teams, and Google Meet.
Accurate speech-to-text technology in over 70 languages and accents, making collaboration with global teams effortless.
Subtitle generator that increases content visibility and accessibility, ensuring your message reaches a wider audience.
Noota Cons:
Limited maximum file duration of four hours, which may not be suitable for longer meetings or recordings.
In conclusion, Noota is a must-have tool for anyone who wants to optimize their online meetings and take their note-taking to the next level. With its intuitive features, seamless integration, and powerful transcription capabilities, Noota empowers you